SAPA! Transport Services

San Antonio Pets Alive! offers transport service to help other organizations move animals out of Texas, using our fleet! We can transport animals for organizations to their adopters, rescue partners or shelter partners in the US & Canada!
Individual Pet Sign-Ups: We transport animals from Texas to their destinations. Please sign up your pet through the form below, so we have your sender and receiver information to start planning! If you have any questions, you can email our team, transport@sanantoniopetsalive.org. We have staff available daily from 9am-5pm to answer questions.
Dedicated runs: We can set up a dedicated run for your organization! We do have a minimum requirement for the run and require half to book and then the remainder due prior to transport. If you have any questions or would like to book a dedicated run please email our team, transport@sanantoniopetsalive.org.
LOCATIONS

We go to the following locations monthly: Pacific Northwest, North East, and Midwest. We have several stop locations in many states, and we try to get our stops as close to the destinations as possible. We will reach out to coordinate & confirm those particular stops once you book.
SIGN UP
To reserve your animal's spot on transport, please complete the forms below and pay online. It will be first come first serve but we can expand our runs as necessary!
Please ensure you have signed up all animals at least 72 hours before departure. We may not be able to add on any animals to the trip after the sign-up deadline.
The following information is required for your reservation:
Animal Name 
Breed
Weight (LBS)      
Crate Size: Please see measuring guide.
Is the pet able to be walked, "have paws on the ground"? (puppies under 8 months we do not walk to prevent illness, we keep their crates clean & check them often.
Animal Notes: Flight Risk? Bite Risk? Medications? Crate Accommodations?
Sending Organization Name and Point of Contact for Departure 
Departure/Loading City - We have a common meet load up location in San Antonio TX, but we do pick up in other cities, or if there is a larger load, we can stop at another SATX location to pick-up before heading out.
Receiver Name, City & State & Phone: (*Our team will coordinate with you to get the pet as close to the destination address as possible)
Drop Off Parameters/Notes: Any need to know for drop off and route planning, any time schedules we need to work around).
LOADING & TRANSPORT REQUIREMENTS
We follow USDA State requirements for transport, and there are some states we cannot drop in. You will need to ensure you have completed the Health Certificate and that all other requirements are met for transport to the destination.
Most states require:
CVI Health Certificate
Rabies Vaccine & Age-appropriate vaccines
Search online for state requirements here.
All animals MUST:
Be healthy upon load up: No URI, kennel cough or other symptoms of illness.
Must have appropriate leash/collar/harness
Have CVI Health Certificate
Paperwork showing vaccines & med histories
Rabies Certificate
If they are missing CVI health certificate, Rabies cert (age appropriate), or are sick we cannot load the pet on transport. If we received incorrect measurements and the dog is not able to stand with free head range of motion and turn around in the crate, we cannot load the pet.
FAQ:

Q: Are runs ever cancelled?
A: Unfortunately, sometimes. If we do not get enough sign-ups for a run, we will have to either postpone the run or cancel the run. If this occurs, we will notify you as soon as possible and we will return your transport fee, we will also help network to see if there are any other transports that can take on your pets.
Q: If the animal in my reserved spot falls off transport (can no longer go), can I put another on in its place?
A: If we are before the sign up deadline, yes! We can still do crate changes and plan the new destination. We will need all the updated required information for the pet before the sign-up deadline.
If the sign-up deadline is over, you may still switch an animal out, if it is the same size crate and has the same destination or once we can work into the schedule. We cannot change the van set up after the sign-up deadline, and we cannot make any amendments to the destination later than 24 hours before departure.
FEES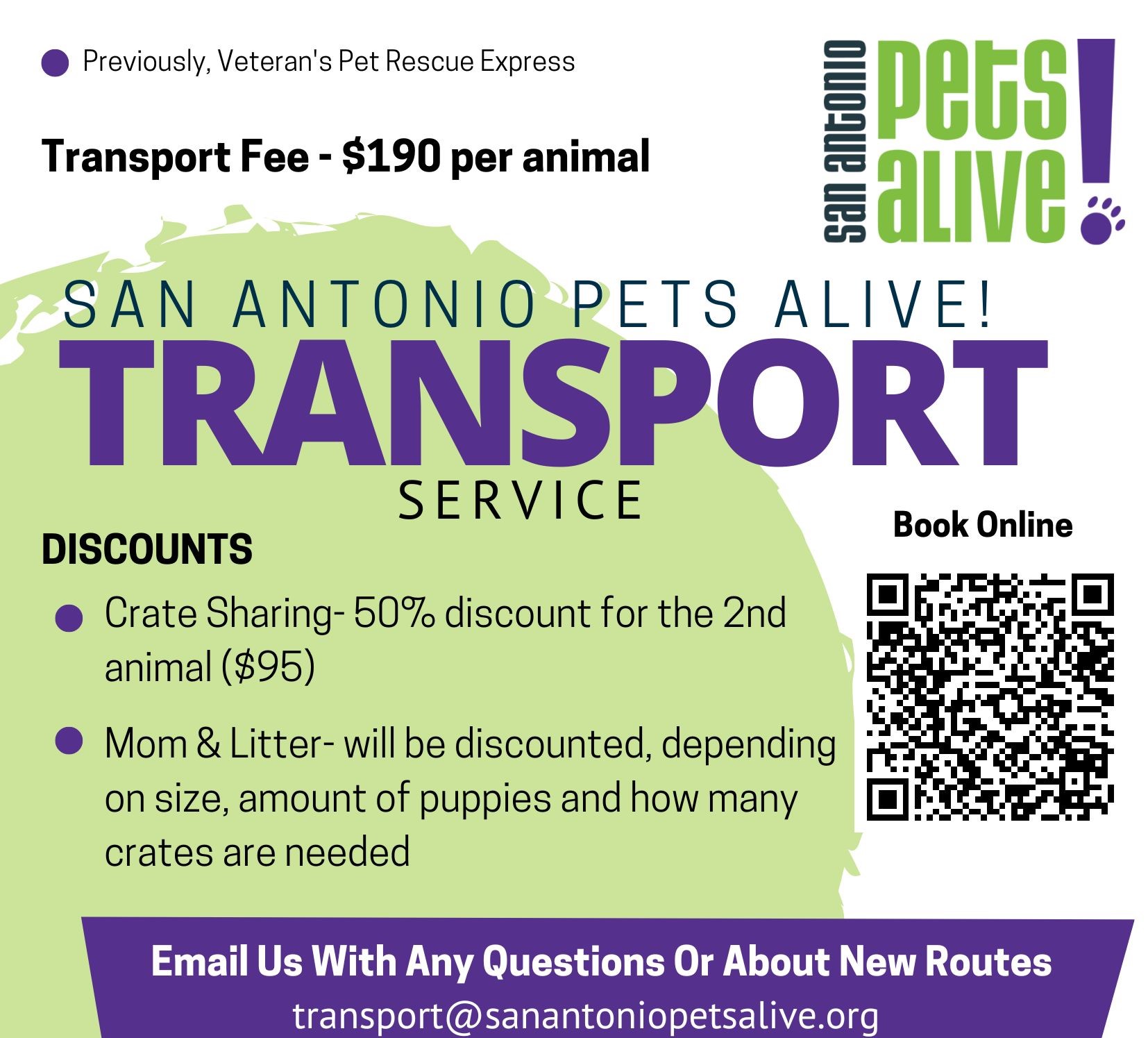 ---